Lloyd Town Court is a couple miles off of Route 9w and, if you're driving towards the City of Poughkeepsie, the courthouse is only three to four miles away from the Mid Hudson Bridge. The road leading to the courthouse is a very winding road and the speed limit is heavily enforced. Watch your speed and avoid getting pulled over on your way to the Lloyd Town Court.
Lloyd Town Court is held on Tuesday's at 4:00pm, Alternating Wednesday's and Thursday's at3:00pm. If your case is scheduled for a Tuesday your matter will be handled by Judge Eugene Rizzo but on Thursday's Judge Terry Elia.
The Lloyd Town Court is located within the same building as the Lloyd Town Hall and directly next door to the First Presbyterian Church, a historic Church located in Poughkeepsie and built in the year 1905. During regular business hours it is possible to access the Lloyd Town Court through the Town Hall entrance. However, during the evening this is not possible. Anyhow, if you enter the building through the Town Hall entrance, you will need to walk to the very back of the building and follow the exit door to the stairway which leads up to the second floor and the, one and only, Lloyd  Town Court. If, however, you enter through the back entrance, also known as the correct entrance, you will simply walk up the stairs and find yourself at the Lloyd Town Court. For handicapped individuals there is only one entrance and it found in the back.
This Court has a lot of volume and is one of the busiest courts in Dutchess County. Plan to be here for a while. You'll  probably need to use the bathrooms so pay attention … the bathrooms are located directly at the top of the stairs and you cannot miss them as you walk in for Court. The bathrooms, however, are on the other side of the courtroom and the security checkpoint. So unless you wish to go through security multiple times, we recommend you use the bathroom before entering the courtroom.
To access the clerk's office, you will need to walk through security and into the courtroom. The clerk's office is located at the very back of the courtroom and to the right hand side of the judges bench.
As mentioned above, this is a very busy court but the occupancy limit in the courtroom is only 75 people. As such, if you want to find a seat then you must get there early.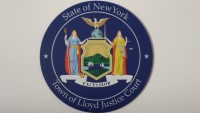 12 Church St
12528 Highland, NY
Phone
Fax
Email address
Website